Grab your pumpkin spike latte or hard apple cider, because fall is officially here! Growing up in Colorado, fall has always been one of the Colorado Bear Creek Cabin family's favorite times of the year. From the fall foliage to pumpkin patches, fall is one of the most beautiful and exciting times to be in Colorado, so let's jump right in to our top 5 fall activities in Colorado near Colorado Bear Creek Cabins!
Fall Activity in Colorado 1 – Fall Foliage
How could we have a list of our favorite activities without including fall foliage? It is that time of year when the aspen trees change color from their normal green to a pallet of fall colors including yellow, red, orange, and even purple!
This year, the peak of the fall foliage will occur from mid September to mid October, depending on the conditions. There are a variety of factors that will affect when the actual peak will be, the most important being the weather.
Oftentimes, Colorado can get snow in October. In addition, the statewide drought may potentially cause trees to lose their leaves up to a week than normally expected. ⁽¹⁾ Therefore, if you happen to be visiting Colorado Bear Creek Cabins over the next few weeks or are in Colorado, we highly encourage you to get out there and see the colors before they are gone!
Here is a more thorough list of our top recommendations for where you can catch the 2020 Colorado fall foliage near Colorado Bear Creek Cabins. A couple of recommendations from that list are:
Guanella Pass – click here for directions
Golden Gate Canyon State Park – click here for directions
Fall Activity in Colorado 2 – Elk Rutting Season
Another family favorite fall activity in Colorado is to witness the elk rutting season. Right now, the elk rutting season is in its peak until the end of October, and the majestic animals frequently pass through our cabins! Here is a photo of a herd of elk that came down to visit the cabins last year:
For those who do not know, the elk rut season is when male elk, or bulls, come down from the top of the mountains to win over their female counterparts, also called cows. ⁽²⁾ They do this by "rutting" against other males, which essentially means to smash their antlers together until one bull comes out victorious.
The Evergreen Area is a great location to witness the best that the elk rutting season has to offer. Apart from our cabins, you can catch them walking around town, on Jefferson County open space, and even on the Evergreen golf course!
Just make sure to keep your distance, as we have seen both male and female elk charge at humans before. Also, be sure to check out this blog post that goes into a little bit more detail about the elk rutting season in Colorado!
Fall Activity in Colorado 3 – Golfing
This may come at a bit of a surprise, but the Professional Golfer's Association actually named Fall as the best time of year to swing the club. Why?
The weather is perfect, it is not too cold and not too warm, making it an ideal temperature to get out on the course.
Fall foliage is happening, so while golfers can enjoy the wide array of colors, providing a beautiful and relaxing experience.
Lastly, the high season in golf (at least in Colorado) is during the summertime, when it is warm and sunny outside. However, the courses tend to be a lot less busy this time of year since the long summer days have ended.
You might even get to see a big bull on the green, just like we did the other day!
Evergreen Golf Course is a beautiful, public golf course located on Upper Bear Creek Road, about 3-5 minutes away from Colorado Bear Creek Cabins.
The Evergreen Golf course is an 18 hole executive course (par 69) that also has a putting green, a pro shop, and a delicious restaurant called Keys On The Green. Here is an overview of the first hole, which shows the surrounding nature that you can experience on this course ⁽³⁾ :
---
---
You can visit the Evergreen Golf Course website for more information, including rates, hours, and to book a tee time. Also, please be mindful that due to COVID-19, certain protocols may be enforced, such as masks and proper social distancing.
Fall Activity in Colorado 4 – Denver Botanic Gardens
An entire book could be written describing the history of the Denver Botanical Gardens and the amount of different species of plants they tend to.
The Denver Botanic Gardens has long been a a favorite location for our family to spend some time together. The Denver Botanic Gardens is divided into two locations: York Street and Chatfield Farm. Both offer fall experiences that you and your family can enjoy.
York Street Fall Activities
York Street is the headquarters of the Denver Botanic Gardens, located at 1007 York Street, Denver, CO 80206.
The Denver Botanic Gardens at York Street presents a wide range of gardens and collections on 24 acres of land. As of right now, they are slowly but surely opening again, and are planning on having their fall events with appropriate protocols in place.
Tickets to visit the York Street Gardens must be purchased online or on the phone, and visitors must be respectful of social distancing and face masks.
The gardens at York Street contain an constantly-widening portfolio of plants from every corner of the world. ⁽⁴⁾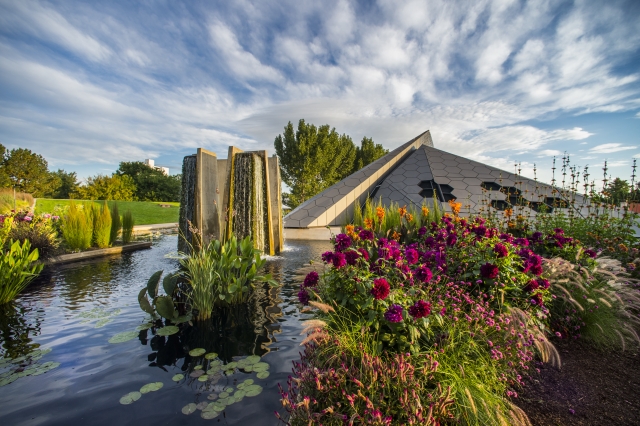 York Street Denver Botanic Gardens. Source: Denver Botanic Gardens
In addition to their exotic gardens, the Denver Botanic Gardens at York Street also have a science center, a restaurant, a coffee shop, and a children's garden.
Apart from visiting the main gardens, be sure to mark these events on your calendar:
October 16-17 and 29-30, 2020 – Ghost in the Gardens, Open Air Scare. Join the socially distanced and face masked Denver Botanical Staff to hear haunting stories of the Garden's 100 year history. Be sure to get your tickets in advance and dress warm!
October 20-25, 2020, 6-9:45 P.M. – Glow at the Gardens. Embrace your Halloween spirit and wander through a one-way path through a spooky, illuminated landscape. Enjoy musicians, dancers, and performing artists as they bring the Halloween spirit to life. Be sure to get your tickets in advance and dress warm!
Chatfield Farm Fall Activities
Chatfield Farms, the other half of the Denver Botanic Gardens is located at 8500 W Deer Creek Canyon Road, Littleton, CO 80128.
Chatfield Farms is a 700-acre Colorado plant refuge and farm located along the banks of Deer Creek. ⁽⁵⁾
Chatfield Farms Denver Botanic Gardens. Source: Denver Botanic Gardens
Chatfield Farms offers two classic fall activities that you can enjoy with your family:
September 18 – October 31, 2020 on Fridays, Saturdays and Sundays – Corn Maze. Get lost in 7 acres of Colorado Corn and try to find your way out! Get your tickets here and be sure to dress warm!
October 1 – October 31, 2020 on all days of the week – Pumpkin Patch. Pick your perfect pumpkin from the Chatfield Farms pumpkin patch and carve it up in time for Halloween! Get your tickets here and be sure to dress warm!
Like the Gardens at York Street, tickets must be purchased online and visitors must follow proper safety procedures. To see the complete guide of the Denver Botanical Gardens and Chatfield Farms safety protocol, click here.
Fall Activity in Colorado 5 – Shop Local
The impact of COVID-19 on small business cannot be overstated. As our economy slowly starts to recover, small businesses need your help to continue doing what they do.
Colorado Bear Creek Cabins is located 1 mile outside of downtown Evergreen, where a unique portfolio of locally owned and operated businesses lies along Bear Creek.
From delicious restaurants to gift shops to cooking schools, the Evergreen area reflects something for everybody. At the time of writing this blog post (September 29, 2020), all but 1 locally owned restaurant is open for business.
Colorado Bear Creek Cabins provides access to all of the aforementioned activities. If any of these fall activities in Colorado appeal to you, we would love to accommodate you on your next vacation. Feel free to contact us as well as check out our cabins! Here's to a great fall!
Endnotes
Sylte, A. (2020, September 1). Fall colors guide: When and where to see the leaves change in Colorado. Retrieved from https://www.9news.com/article/weather/fall-colors/colorado-fall-colors-dates-by-region-peak-times-to-visit/
Holden, C. (2019, September 11) Autumn Elk Rutting Season in Rocky Mountain National Park. Retrieved from https://www.mycoloradoparks.com/things-to-do/elk-rutting-season
Denver Parks and Recreation. (2018, January 2). Evergreen Golf Course – Hole #1|Denver Golf. [Video]. Retrieved from https://www.youtube.com/watch?list=PLJ78Q0unUQV98sgrwG9z5Sn8Oi2FRog9E&time_continue=19&v=JFT821pfe-U&feature=emb_title
Denver Botanic Gardens. (2020). York Street. Retrieved from https://www.botanicgardens.org/york-street
Denver Botanic Gardens. (2020). Chatfield Farms. Retrieved from https://www.botanicgardens.org/chatfield-farms